If you are reading this post, am sure you already knows what google adsense is all about, but for the benefits of those that doesn't know about adsense, i will explain.
What is an Adsense Account?
What is an Adsense Account?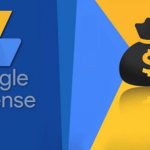 Adsense is a an advertising software with which google uses to sell advertisers ads to potential buyers worldwide, they do this by displaying these ads on third party websites and contents which signed up for adsense account.
When can i withdraw money from adsense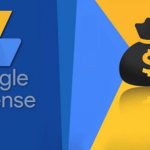 Adsense users cant withdraw their earnings until they reach $100 threshold
As a website owner you may decide to earn some money through adsense by selling your traffics to them, this is an easy but sometimes difficult action to execute as adsense allows everyone but don't accept everyone into their system due to their strict policies.
now you are wondering how to create an adsense account, lets show you simple way you can open an adsense account immediately.
How to create adsense account and show ads.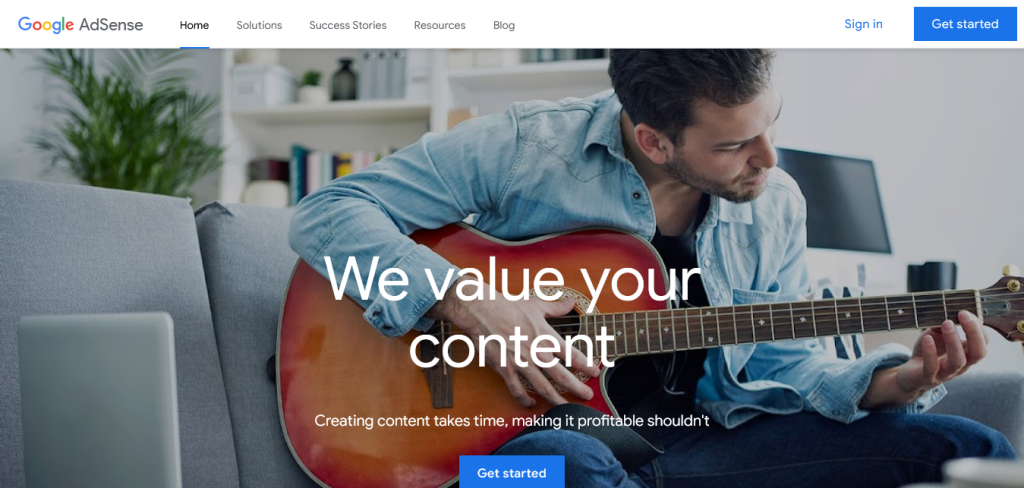 To Create an adsense account Open a Gmail account now head over to Google adsense website and signup with your email address.
Click on start then fill out the required form on the adsense website starting by entering the link to your website with which you intend to use the adsense on, Tick and mark all the required options then chose your country and accept adsense Terms of services, Lastly click on start Using adsense button to Submit the registration form.
After filling out this form for adsense, the next page will show you a code to place in your websites header to connect your website to the adsense system, now copy this code and goto your sites Header and place the code between <header>Code should be here</header> Then safe and come back to request review of the site. Wait for at least 7 days for google adsense staffs to review your website and approve your website before it can show ads.
Adsense Best practices.
Before applying for google adsense account make sure your website is well optimized for Adsense, below are few things you must do on your site before you apply adsense to avoid rejections.
Create about page.
create contact page.
You must have a privacy policy page.
You must have a terms and condition page.
Dont post copied posts from other websites Google frowns at plagiarism.
Make sure these pages are available on the menu.
Have at least 5 well optimized posts with 2000 words contents.
Dont sure adult contents on your page or you will not be accepted.
With these done its sure that you will be approved and enrolled into google adsense program.
How to verify Adsense without pin.
Adsense users cant withdraw their earnings until they reach $100 threshold before this there are verification's you need to pass before google will let you withdraw your earnings, the verications google adsense offers are as follows
Identity Verification
Address Verification
In Identity verification, user is requested to Upload their Government issued means of identification like National Id, Drivers license or passport. At this time your earnings maybe on Hold and your ads may not show on your site till you verify your ID. as soon as you upload this ID, your identity will be reviewed and Verified. make sure your name on the adsense matches the ID card before you submit.
2. Address Verification, this is a must do, because google will like to make sure they know you exist in your physical address, they mail you a pin with which you will Enter into your adsense to to complete your verifications, Normally google mails arrives within 2 weeks in countries with good mailing systems but most times here in Nigeria, and other african countries you dont succeed in receiving the adsense Verification Pin on Time and most Times you dont receive it as the adsense letter gets Lost due to address issues in Africa.
How to Verify Adsense without pin code?
You have 4 times to request and enter your verification code from google adsense, so after 2 weeks if you do not receive this Letter, you are required to request again for a pin even in a new address but must be within the same country. from the day Adsense requests you to verify your account you are left with 60 days to verify it or they will stop showing ads on your website.
assuming you are tired of waiting for this mails and gets frustrated by adsense pins not arriving, you may want to buy already verified accounts which are really expensive and in most times not easy to buy, this is the solution to verify your Google adsense account without the pin.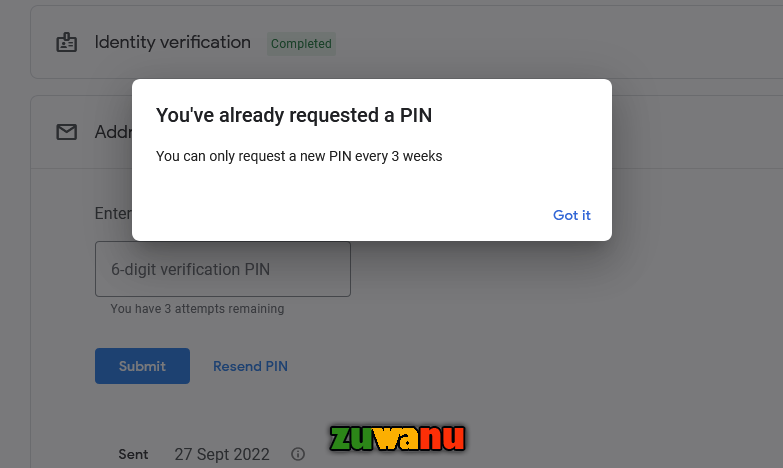 Follow these steps to verify your accounts immediately without any pin.
Exhaust Your pin request time by requesting for a new pin every 3 weeks, without reaching 3 weeks you cant be able to request for another pin so after making 4 requests,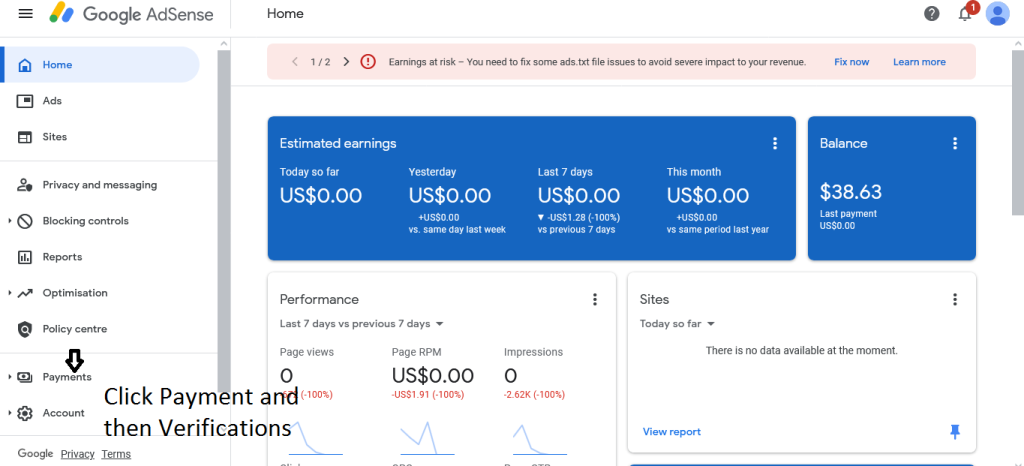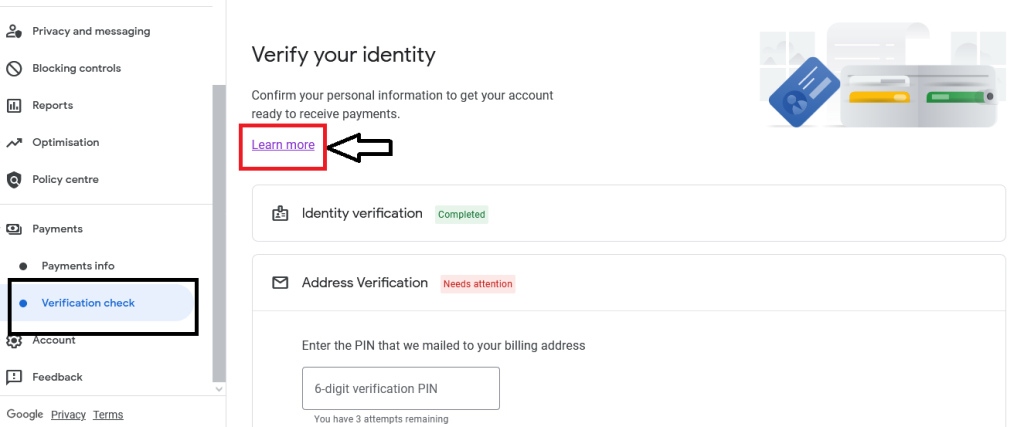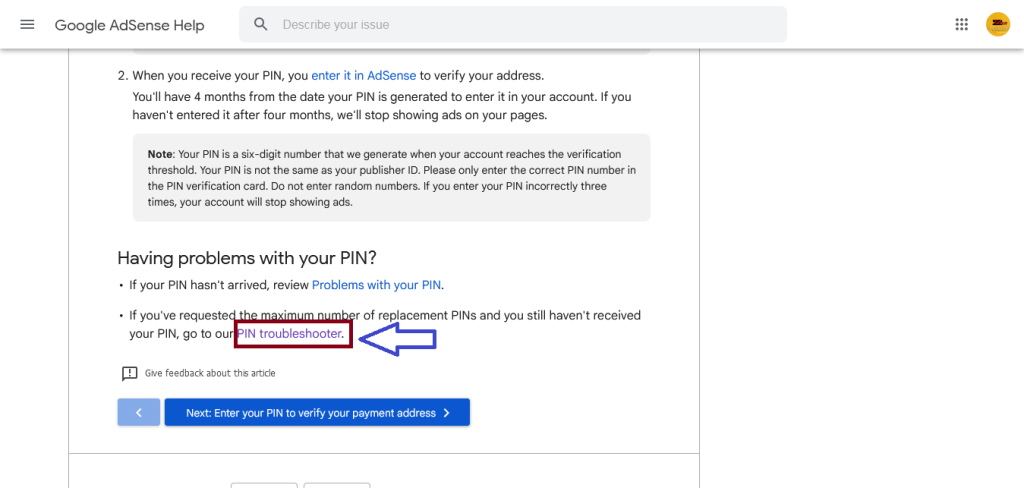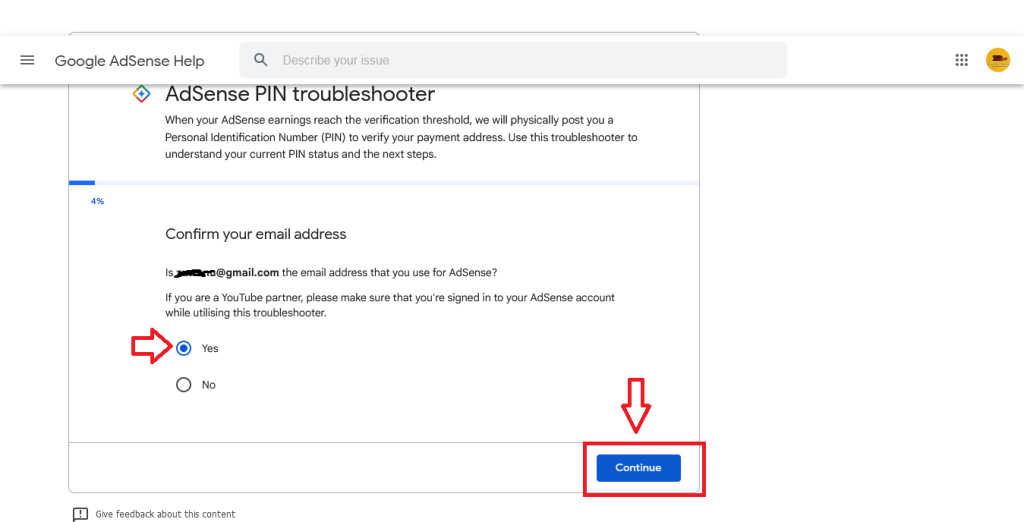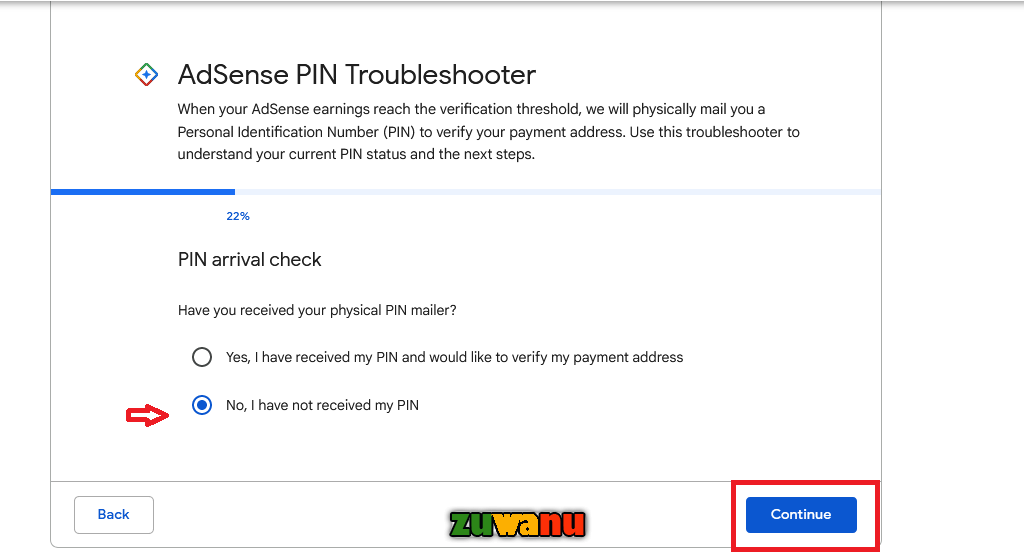 Steps Goto
Payment,
Verification Check
Click on Learn more to
You will be redirected to adsense Help page and you will see the following Texts that says ( If you've requested the maximum number of replacement PINs and you still haven't received your PIN, go to our PIN troubleshooter.) now click on Pin TROUBLESHOOTER FOR ADSENSE
Confirm your email address AND Click continue to proceed.
Select No, I have not received my PIN and continue.
Now fill out the page before you with your Pub ID which starts with pub-47*********** , upload your iD card which is not expired and then wait few hours for verification agents to review your request, in less than few moments your adsense account will be Verified and check marked completed.
Thats how to verify adsense account without a pin