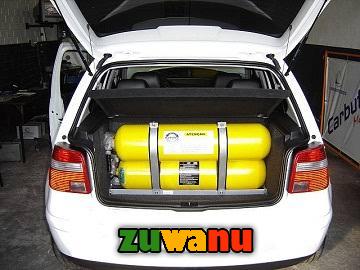 Nigerian auto manufacturer, Innoson Vehicle Manufacturing, based in Nnewi, Anambra State, has successfully unveiled a wide range of Compressed Natural Gas (CNG) enabled vehicles, including trucks, mini-buses, ambulances, long buses, SUVs, and more. The CEO, Mr. Innocent Chukwuma, assured Nigerians of the safety of CNG vehicles and their availability to meet various demands.
During the event, discussions also highlighted the importance of alternative fuels, like CNG, to reduce the nation's dependence on petrol and diesel, especially considering the challenges posed by rising fuel prices due to the removal of subsidies. The Anambra State government showed its support for the deployment of renewable technologies like CNG, LNG, and solar-powered solutions to enhance the mass transport system in Nigeria.
Innoson Vehicles emphasized the advantages of CNG vehicles, which offer higher combustion rates and better environmental friendliness compared to traditional fuel-powered cars. The company's commitment to local manufacturing and empowering industries as a means to boost the economy and reduce the national debt profile was also highlighted.
The unveiling ceremony received praise from representatives of various organizations, including the Manufacturers Association of Nigeria (MAN), Bank of Industry, auto industry leaders, and oil and gas investors. The event took place at the IVM factory in Nnewi, where hundreds of CNG-powered vehicles suitable for Nigerian and African roads were showcased.
How to Convert a Petrol Car to CNG
With the increasing fuel prices in India, Compressed Natural Gas (CNG) vehicles have gained popularity as an affordable and eco-friendly alternative to traditional fuels. If you already own a petrol car and wish to switch to CNG, it is possible to convert your vehicle to run on CNG with the help of an aftermarket CNG kit. However, this process is complex and should be carried out by a professional to ensure a safe and effective conversion.
Preconditions for CNG Conversion:
Ensure your vehicle is compatible with a CNG kit.
Purchase the CNG kit from a licensed dealer.
Use only brand-new parts in your car.
Hydro-test the CNG tank for leaks before installation.
CNG Installation:
The installation process involves fitting various components like an air/gas mixer, pressure regulator, high-pressure line, CNG filling valve, CNG tank, manometer, selector switch, emulator, and heating system. After installation, all parts should be thoroughly inspected and tightened to ensure proper functioning. Start the engine in petrol mode first before switching to CNG.
Types of CNG Kits:
Factory-Fitted CNG Kit: Installed by the automobile manufacturer, specific to a model, and doesn't affect the car's warranty.
Aftermarket CNG Fuel Kit: Universal kits suitable for any petrol-powered vehicle, less expensive than factory-fitted kits but may void the car's warranty and offer slightly less safety.
Pre-Conversion Checks:
Check compatibility and obtain government approval for CNG conversion.
Purchase branded CNG kits from authorized dealers and avoid locally produced kits.
Consider long-term running costs, engine maintenance, and availability of CNG filling stations.
Benefits of Using CNG:
Environmentally friendly with fewer greenhouse gas emissions.
Generally cheaper than petrol or diesel, resulting in cost savings.
Flexibility to switch between CNG and petrol if needed.
Disadvantages of Using CNG:
Limited availability of CNG refueling stations.
CNG tank placement may reduce storage space and add weight to the vehicle.
High initial installation cost for aftermarket kits.
Safety Concerns:
CNG is a gaseous fuel that can pose safety risks if not handled properly, making it less safe than petrol. Professional installation and regular maintenance are crucial to mitigate these risks.