2023 Toyota Camry: A Comprehensive Review.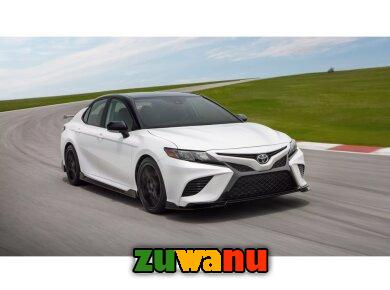 The Toyota Camry has long been a staple in the midsize sedan segment, known for its reliability, practicality, and value. With the release of the 2023 Toyota Camry, the legacy continues, bringing with it a host of updates and improvements that aim to keep this model at the forefront of its class. In this in-depth review, we will explore the features, trims, technology, engine options, design, as well as the pros and cons of the 2023 Toyota Camry.
Features
1. Safety Features
Toyota has always prioritized safety, and the 2023 Camry is no exception. It comes equipped with the Toyota Safety Sense 2.5 suite of driver-assistance features. This includes adaptive cruise control, lane departure warning with steering assist, automatic emergency braking with pedestrian detection, and more. The Camry also offers an available blind-spot monitoring system and rear cross-traffic alert for added peace of mind.
2. Infotainment and Connectivity
The 2023 Camry boasts an updated infotainment system with a standard 7-inch touchscreen that supports Apple CarPlay and Android Auto. For those looking for a larger screen, an 8-inch or available 9-inch touchscreen is also available in higher trims. The interface is user-friendly, responsive, and integrates well with smartphones, making it easy to access navigation, music, and apps.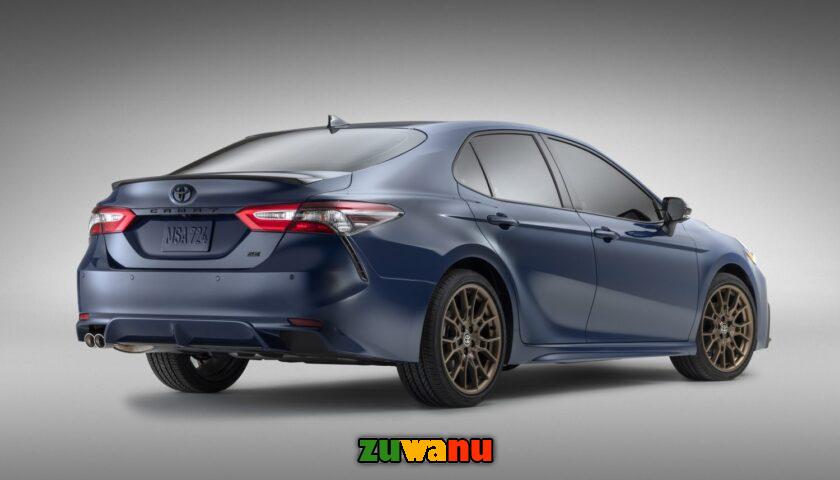 3. Comfort and Interior
The Camry's interior is spacious and comfortable, with ample head and legroom for both front and rear passengers. The seats are supportive and well-padded, making long journeys a breeze. In higher trims, you'll find features like leather upholstery, power-adjustable seats, and heated and ventilated front seats, adding an extra layer of luxury.
4. Trunk Space
One of the Camry's standout features is its generous trunk space. With 15.1 cubic feet of cargo room, it easily accommodates luggage, groceries, and more. The rear seats also fold down in a 60/40 split, providing additional flexibility for larger items.
Trims
The 2023 Toyota Camry comes in several trims, catering to a wide range of preferences and budgets. Here are the main trims:
1. LE
The LE is the base trim, offering a good balance of features and affordability. It comes with the standard 7-inch touchscreen, Toyota Safety Sense, and a capable 2.5-liter four-cylinder engine.
2. SE
The SE trim is sportier in appearance and offers a firmer suspension for a more engaging driving experience. It also adds sport seats and paddle shifters.
3. XLE
The XLE is a more upscale option, adding features like leather upholstery, an 8-inch touchscreen, and available V6 engine. It caters to those looking for a more luxurious Camry experience.
4. XSE
The XSE builds on the SE's sporty theme with additional features like 19-inch wheels, a sport-tuned suspension, and available red leather upholstery. It's a great choice for buyers who want a combination of sportiness and luxury.
5. TRD
For those seeking a true sport sedan, the TRD trim is the most performance-oriented Camry. It features a sport-tuned suspension, unique exterior styling, and performance brakes. It's perfect for those who want a Camry with a racing edge.
6. Hybrid Variants
Toyota offers hybrid variants for several trims, including the LE, SE, and XLE. These models come with a fuel-efficient hybrid powertrain, providing excellent fuel economy and reduced emissions.
Technology
1. Engine Options
The 2023 Camry offers a choice of two engines:
2.5-liter Four-Cylinder: This engine is standard on most trims and produces 203 horsepower. It's paired with an 8-speed automatic transmission, delivering a smooth and efficient driving experience.
3.5-liter V6: Available on XLE and XSE trims, the V6 engine packs a punch with 301 horsepower. It's mated to an 8-speed automatic transmission, offering brisk acceleration and plenty of passing power.
2. Hybrid Powertrain
The Camry Hybrid combines a 2.5-liter four-cylinder engine with an electric motor, producing a combined 208 horsepower. It's known for its exceptional fuel efficiency, making it an ideal choice for eco-conscious buyers.
Design
The 2023 Toyota Camry has received subtle design updates that enhance its appearance. Its bold front grille and sculpted body lines give it a modern and sophisticated look. The TRD trim, in particular, stands out with its aggressive styling elements, including a unique front splitter, rear diffuser, and sporty wheels. Overall, the Camry maintains its reputation for having a timeless and elegant design.
Pros
1. Reliability
Toyota's reputation for building reliable vehicles is well-deserved, and the Camry is no exception. Owners can expect years of trouble-free driving and minimal maintenance costs.
2. Fuel Efficiency
The Camry offers impressive fuel economy across its engine lineup. The hybrid models, in particular, are exceptionally frugal, making them a cost-effective choice for daily commuting.
3. Comfort and Spaciousness
The Camry's spacious interior and comfortable seats make it an excellent choice for long trips. Passengers will appreciate the ample legroom and well-padded seats.
4. Resale Value
Toyotas tend to retain their value well, and the Camry is no exception. When it comes time to sell or trade in, you can expect a strong resale value.
Cons
1. Lack of All-Wheel Drive
Unlike some competitors, the Camry is only available with front-wheel drive. This may be a drawback for buyers in regions with harsh winter weather conditions.
2. Limited Standard Features
While the base LE trim is affordable, it lacks some of the advanced features found in higher trims. To access features like the larger touchscreen and leather upholstery, buyers will need to opt for higher trim levels.
3. Ride Comfort on Sportier Trims
The sport-tuned suspension on SE and XSE trims can make the ride firmer, which may not be to everyone's liking. Those seeking a softer, more traditional sedan ride may prefer the LE or XLE trims.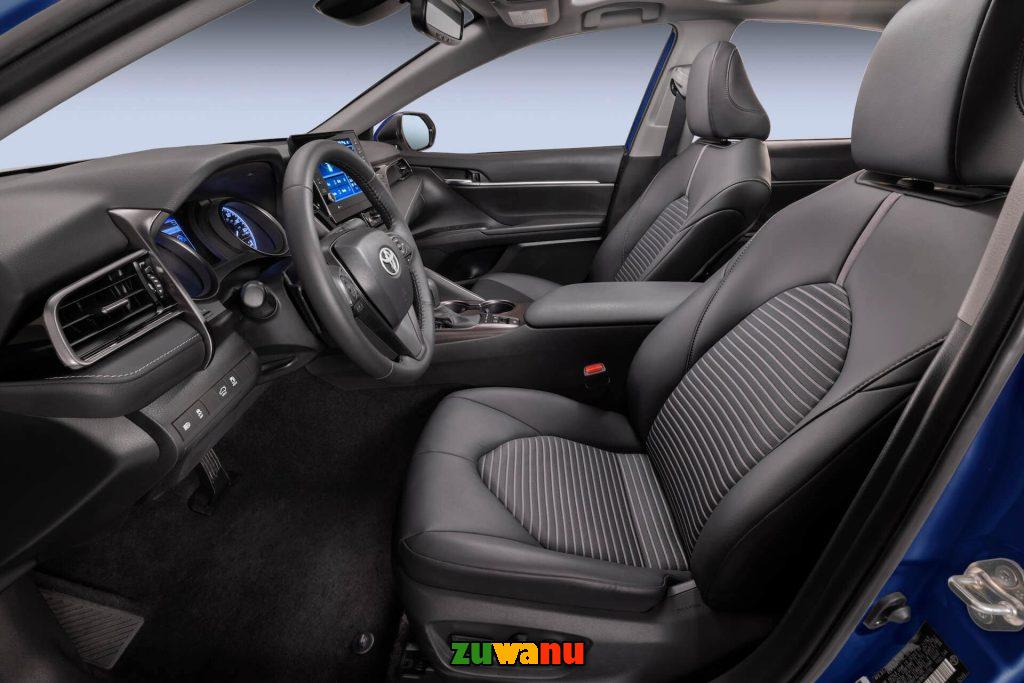 PRICE IN NIGERIA.
The 2023 Toyota Camry enjoys significant popularity among Nigerian consumers, often chosen for private transportation needs. In the upcoming year, the SE trim offers an optional Nightshade package, which includes a sleek black finish for the headlight and taillight trim, harmonizing with the black front grille, rear spoiler, mirror caps, and badges.
Adding an unexpected touch of elegance, the Nightshade package incorporates matte bronze 19-inch wheels that seamlessly complement the vehicle's overall aesthetics. In Nigeria, post-duty prices for the 2023 Toyota Camry Nightshade trim are expected to range from ₦40,000,000 to ₦52,000,000, making it an attractive choice for discerning buyers seeking both style and performance.
Conclusion
The 2023 Toyota Camry continues to be a strong contender in the midsize sedan market. With its comprehensive safety features, diverse trim lineup, efficient engine options, and comfortable interior, it caters to a wide range of buyers. While it may have a few drawbacks, such as the absence of all-wheel drive on some trims and the need to opt for higher trims for advanced features, the Camry's reputation for reliability, fuel efficiency, and resale value make it a compelling choice for those in search of a practical and dependable sedan. Whether you prioritize safety, fuel economy, or a sporty driving experience, there's likely a Camry trim that suits your needs in the 2023 lineup.